Pat Ann St. Germain, MA, LPC
Pat Ann is the Director and Owner of Healing Hearts Family Counseling Center, LLC. When Pat Ann worked with children and adults who were adopted, she saw the potential for change. She found with therapy alone, something was still missing. She became curious about the underpinnings and committed her career to understanding what those things were and what was missing to make lasting change. On that journey, Pat Ann discovered underlying neurological implications of many mental health-related issues. This journey led her to develop the program she has created at Healing Hearts.
Pat Ann is passionate about sharing and educating others through collaboration and training. She continues to train others to identify symptoms, where they originate in the brain and the root of the issue.
Pat Ann has extensive training with leaders in the field of attachment and adoption. She has been heavily influenced by her experience in sensory processing and regulation and Neurofeedback. She was introduced to essential oils and the use of the olfactory system in how it supports healing, especially with regards to trauma. Currently, Pat Ann is an Instructor with the Aroma Freedom Academy.
_________________________________________
Heather Edge, MSW, LCSW
Heather is passionate about helping children and families heal from past trauma and find success in building healthy relationships. Heather strives to create a safe space where clients can feel supported and understood, even as they deal with challenges and painful experiences. She works with a wide range of presenting issues such as depression, anxiety, self-esteem, trauma, attachment, relationship and parenting concerns. Heather has worked extensively with foster youth, families, and children who have been adopted and seeks to find ways to help with healing. She uses a strength-based perspective to help families produce the change that is desired.
Heather values specialized training with leading authors in the field. She has received certificates from the Trauma Institute of Boston, EMDR and Behavior Therapy Training for the treatment of OCD through Behavioral Therapy Training Institute. She has been trained in the STAT™ model for treatment, Dyadic Developmental Psychotherapy and certified as an Attachment-Focused Family Therapist, DIR Floortime, and the Aroma Freedom Technique. Heather is an associate lecturer at the University of Wisconsin-Madison in the School of Social Work.
Heather is available Tuesday-Friday
_________________________________________
Leah Thompson, COTA, MA, LPC​
Child and family struggles have been the focus of Leah's professional career for over 15 years. She strives to enhance the lives of those she works with, whether it be working with a child who has experienced developmental trauma, suffers from extreme anxiety or obsessional thoughts and acts or the daily challenges we all face. Leah has worked with children and adults in many settings, including family homes, classrooms and private clinics. Leah places a high priority in training with the leading authors and theorists in her field. Developing a trusting therapeutic relationship is her goal when dealing with painful experiences and personal challenges. Leah is a National Licensed Certified Occupational Therapy Assistant and WI Licensed Professional Counselor. She has received specialized training as a Neurofeedback Specialist, Interactive Metronome practitioner, Level I Aromatherapist and attachment training with Dr. Art Becker-Weidman. She also received certificates from the Trauma Institute of Boston, TheraPlay Institute and Behavioral Therapy Training Institute. Trained in Dyadic Developmental Psychotherapy, Synergistic Trauma and Attachment Therapy Model, DIR Floortime, Aroma Freedom Technique, and is currently working towards certification in Obsessive Compulsive disorders.
Leah is available Monday-Thursday
_________________________________________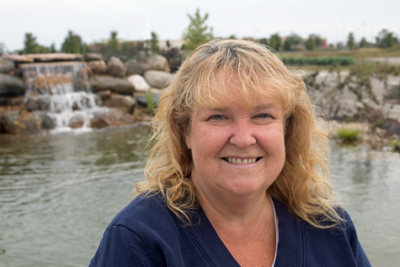 Anne Elizabeth Smith, MA, LPC
Anne works collaboratively with people, so they can feel safe as they begin to take an honest look at their thoughts, feelings, and emotions. She assists and guides each person in promoting improved insight, providing hope to continue, and holding space for each person to experience, process, and express genuine emotions. The therapeutic relationship promotes change and establishes a supportive working environment that can translate into everyday life.
Anne has served children and families from a multitude of unique perspectives as a social worker prior to becoming a counselor. She worked in schools facilitating and guiding youth in life skills development, employment skills and, peer supportive behaviors. She also taught in preschools and developed age appropriate curriculum that promoted fun and appropriate social-emotional development. Anne worked with underserved youth while residing within a teen-shelter setting and after-school program. Lastly, Anne supported and trained adults with disabilities in job development skills.
Anne is a WI Licensed Professional Counselor. She has received specialized training in attachment through Dr. Art Becker-Weidman, has received Anxiety/OCD training through IOCDF and is trained in the Aroma Freedom Technique.
Anne is available Monday - Friday
_________________________________________
Cathy Brock, MA, LPC
Family dynamics and healthy relationships are the centers of Cathy's professional focus. She looks to find underlying issues including past trauma history, attachment concerns, and current family strife to guide her in therapy. Cathy works with children, adolescents, and adults using a relationship-focused approach to help build a trusting therapeutic environment. Cathy has extensive knowledge working with neurological and behavioral disorders in her practice. Cathy is dedicated to building a strong family system with each client to assure success beyond therapy sessions. Cathy is a WI Licensed Professional Counselor. She has received specialized training as a Neurofeedback Specialist and as an Interactive Metronome Provider. She also has additional certificates in Dyadic Developmental Psychotherapy, Aroma Therapy Technique, Intensive Trauma Training, and advanced training as a Certified Adoption Competent Therapist. She is constantly striving to learn more about mental health issues and how they impact daily living.
Cathy is available Monday-Wednesday.
_________________________________________
Sally R. Young, Ph.D., LPC
Sally has been supporting individuals with autism and their families since 1983. She holds a Masters' degree in Clinical Psychology and a Ph.D. in Special Education. Her research and advanced training has focused on the sensory, movement, and communication difficulties often experienced by individuals on the spectrum. Upon completion of graduate school, Sally was the co-principal investigator on two research grants. One of those research projects was the basis for her book, Real People, Regular Lives: Autism, Communication, and Quality of Life. In her clinical work, Sally uses an eclectic approach that includes CBT, attachment and relationship-building, yoga, affect regulation, expressive arts, positive behavior support, alternative communication modalities, and strategies for sensory/movement issues.
Sally works out of her own office located at 1250 Femreight Dr. Suite 202, Madison. She is available Monday-Thursday.
_________________________________________
Denise Juve, COTA
Denise joined the Healing Hearts team in February 2014 and is excited to be able to continue to grow, learn and work in a setting where people can become more regulated through their mind and body and strive towards their highest potential. Denise has had extensive training as well as work experience with a broad range of clients in a variety of settings from infants, children, adolescents, and elderly that has helped her gather a vast knowledge base since she graduated from Madison College in 1994. As a Certified Occupational Therapy Assistant, Denise's emphasis has been primarily based on Sensory Integration and the overall importance of Regulation. In 1997 she began training in Cranial Sacral Therapy, she has received specialized training as a Neurofeedback Specialist, Interactive Metronome practitioner and received certification from the Trauma Institute of Boston.
Denise is available Monday, Wednesday and Thursdays
_________________________________________
Trischia Bindley, Office Manager
After 20 years in retail management, Trischia changed career paths hoping to make a difference.
Trischia joined Healing Hearts in 2016. Trischia strives to make a difference in children's lives. Trischia has been an active member of her children's parent group at school for the last 6 years, coordinating fundraisers and family fun nights. She is responsible for all office procedures/needs, scheduling, maintaining accurate systems, working with outside agencies and staff to ensure smooth and accurate patient care. In addition, Trischia answers the phone and staffs the reception desk. She is always there to help any patient that comes in as well as her Healing Hearts family. Trischia enjoys being a witness to the benefits of mental health therapy.
_________________________________________
Amanda Field, Billing Specialist/Book-keeper
Amanda enjoys working with the people at Healing Hearts. Many have become like family, and she loves watching them continue to make a positive difference in the lives of friends, families, and the community. Amanda has been with Healing Hearts since 2011. She is the clinics Billing Specialist and manages patient accounts and billing records at Healing Hearts. Amanda has a Liberal Arts Degree, Civil Engineering Technician Degree, and a Medical Billing Specialist certificate.
_________________________________________
Emily Krause, MSW, LCSW
Building a positive and trusting therapeutic relationship as a vehicle for growth is at the core of Emily's practice. She is compassionate about providing clients with a warm, supportive space to explore and discover the possibility of change. Emily enjoys working with clients to find helpful tools and strategies to cope with challenges. She is dedicated to identifying and building on clients' strengths, promoting self-awareness, and helping clients build meaningful relationships.
Emily is a WI Licensed Clinical Social Worker. She has worked extensively with children, adolescents, and adults in a variety of settings and has experience helping people with a wide range of psychological and emotional difficulties. Emily uses a humanistic and strengths-based perspective and employs a range of approaches including solution-focused, mindfulness, and cognitive behavioral techniques.
Emily is available Tuesday and Friday
_________________________________________
Olivia Gilkey, MS-LMFT
Olivia strives to provide a welcoming and safe environment for her clients while offering them unconditional support. She loves working with kids with disabilities and supporting their parents. Olivia likes couples work and values family dynamics. In addition, she enjoys working with clients to discuss effective communication, improve parenting skills, and foster independence. Olivia is passionate about animal-assisted therapy and has experience in training service dogs. In her free time, Olivia and her dog, Clyde have worked to become a certified therapy dog and handler team, providing comfort to others in associations with the GO Team Therapy, Crisis and Airport Dogs. Prior to becoming a therapist, Olivia worked with children and adolescents with Autism, teaching them social and developmental skills. Olivia is a certified PREPARE/ENRICH marriage facilitator, and has received specialized training as a Neurofeedback Specialist, Interactive Metronome practitioner, and Integrated Listening Systems-Focus Systems provider.
Olivia is available Monday through Friday
_________________________________________
Taylor Morrison, MS, MFT
Taylor works within an environment that is both welcoming and inclusive, as well as supportive. Taylor strives to recognize all parts of a person's system to best understand the narrative that has shaped their reality. Taylor enjoys working with children with disabilities, as well as working with parents on how to best help their child. Taylor has experience working with children on the autism spectrum as well as those who have a neurocognitive disability. Taylor also works with children and adults experiencing anxiety. She helps to engage the client in a way that provides them with confidence, autonomy, and support in their every day lives. Before working toward her master's degree, Taylor worked with children on the autism spectrum, doing intensive in-home therapy. Taylor also has background in working with alternative treatment modalities as well as conducting couple's counseling. Taylor is a PREPARE/ENRICH marriage facilitator.
Taylor is available Monday-Friday
_________________________________________